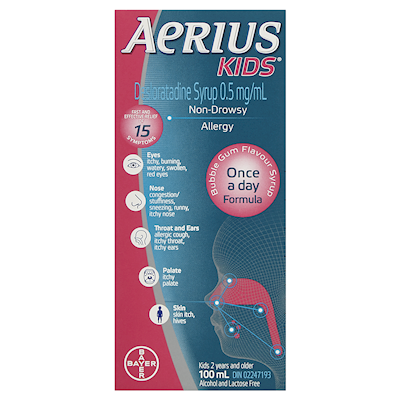 AERIUS KIDS ALLG BUBBL GUM N-D 100ML
Welcome to Aerius Kids: a new allergy medication that relieves symptoms so kids can get on with life. One dose of Aerius Kids syrup brings fast, effective relief from sneezes, stuffy nose, itchy eyes and other irritating allergy symptoms due to seasonal allergies.

Aerius Kids syrup has been demonstrated in pediatric clinical trails, which showed that the medication is well-tolerated among children Aerius Kids delivers relief from seasonal allergy symptoms — without drowsiness, fatigue and hyperactivity.

Taken once a day, Aerius Kids syrup relieves allergy symptoms for 24 hours. Unlike earlier medications, which must be taken as many as four times a day, Aerius Kids keeps allergy symptoms at bay with just a single daily dose.