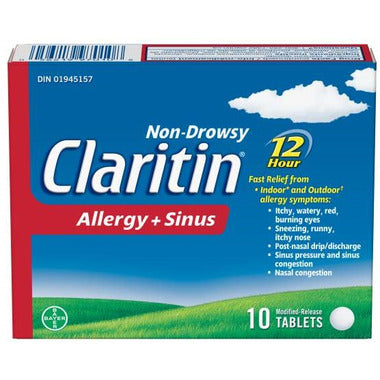 CLARITIN 24HR ALLERGY+ SINUS Non-drowsy
One fast acting, non-drowsy tablet effectively relieves allergy symptoms and nasal congestion for 12 hours. Claritin can be taken any time of the day.
Features:
Fast acting and long-lasting antihistamine + decongestant.
Provides non-drowsy 12 hour allergy relief of symptoms caused by seasonal allergens (trees, grass, and ragweed pollen) and perennial allergens (dust mites, animal dander and moulds).
Relieves sinus and nasal congestion.
Relieves runny nose, sneezing, itchy, watery, red, burning eyes, and itchy nose.

Recommended Dosage:
 Adults and children (12 years of age and older): One tablet every 12 hours. Do not exceed more than two tablets in 24 hours. Do not crush, break , chew or dissolve the tablet. Swallow whole with water. Limited to 3 months of use unless recommended by a doctor.
Ingredients:
 5mg Loratadine, 120mg Pseudoephedrine Sulfate.
Caution:
 Before you use Claritin® Allergy + Sinus talk to your doctor or pharmacist if you are/have: Pregnant or breastfeeding, elderly, taking other medications, liver or kidney disease as you may require a dose adjustment, diabetes, stomach problems.
Please read the label, warnings and inserts provided by the manufacturer and consult your healthcare professional when purchasing medications or natural health products to be sure the product is right for you.