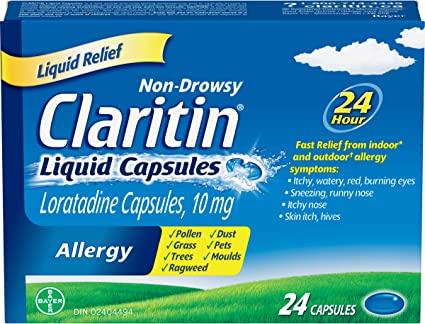 CLARITIN 24HR LIQUID CAPSULES 24'S
Clinically proven to provide fast, effective, non-drowsy 24-hour relief from your worst allergy symptoms.  Claritin provides relief from both indoor (animal dander, dust mites, mould) and outdoor (trees, grass, ragweed, pollen) allergy symptoms. Claritin provides relief of allergy symptoms including itchy, watery, red, burning eyes, sneezing, runny nose, itchy nose, skin itch and hives.  Claritin Liquid Capsules are available in a 24 capsule size. For additional dosage forms, Claritin is also available in original Allergy Tablets and Rapid Dissolve.


Claritin is Doctor and Pharmacist recommended.  Claritin can be taken any time of the day.

*Use as directed when allergy symptoms first appear, then daily while your allergy triggers remain. Consult a doctor for use beyond 6 months. To be sure this product is right for you, always read and follow the label.
1 easy-to-swallow liquid filled capsule is clinically proven to provide fast-acting 24-hour relief from indoor and outdoor allergy symptoms without causing drowsiness, so you can stay alert and focused all day

Provides fast relief of allergy symptoms caused by outdoor allergens such as trees, grass, ragweed and pollen and indoor allergens such as dust mites, animal dander and moulds

Relief of your worst allergy symptoms including itchy, watery, red, burning eyes, sneezing, runny nose, itchy nose, skin itch and hives

Doctors recommend taking one Claritin every day during your allergy season for continuous symptom relief *

Each liquid capsule contains 10 mg of loratadine