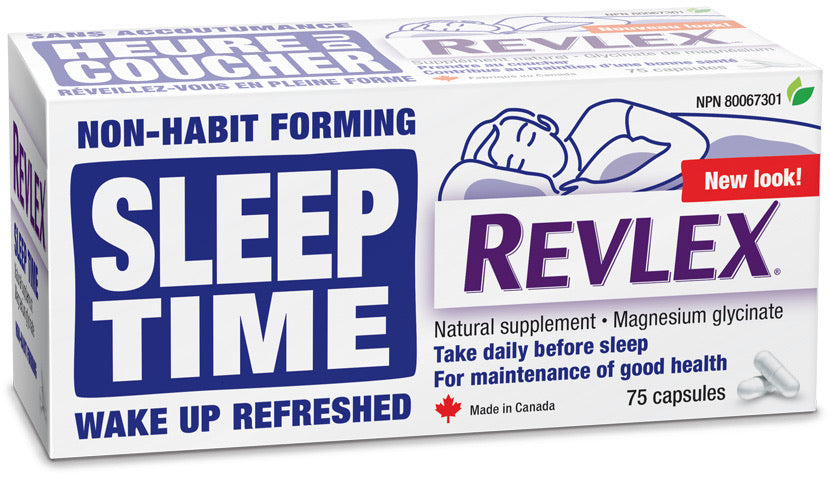 Don't let sleepless nights dull your day
REVLEX® Sleep Time helps you get the rest you need so you can wake up refreshed. Made from a unique combination of Magnesium and Glycine, Sleep Time is a non-habit forming sleep aid you can take daily. Enjoy a good night's sleep without feeling groggy or drowsy in the morning.
The Magnesium helps to calm your nerves, relax muscles, and alleviate symptoms of anxiety and depression while Glycine works to improve your sleep quality, reduce fatigue, and produce a refreshing feeling when you wake. With no major side effects, REVLEX®'s naturally acting formula ensures a restful night so you can move about your day!
Active Ingredients
Magnesium Glycinate (500mg)
Providing Magnesium (50mg)
Inactive Ingredients
Cellulose, Glyceryl Behenate, Hypromellose, Magnesium Stearate
Directions for use
Recommended daily dosage:
Start with 2 capsules before bedtime. Your dosage can be increased as needed up to a maximum of 6 capsules per day.
No dose adjustment is needed for pregnancy, breastfeeding and/or kidney disease.
Take nightly and wake-up refreshed and ready to move about your day!
REVLEX® Sleep Time may also help you to relieve periodic leg movements during sleep (PLMS), restless legs syndrome (RLS), anxiety, and PMS symptoms.